Special Constable Recruitment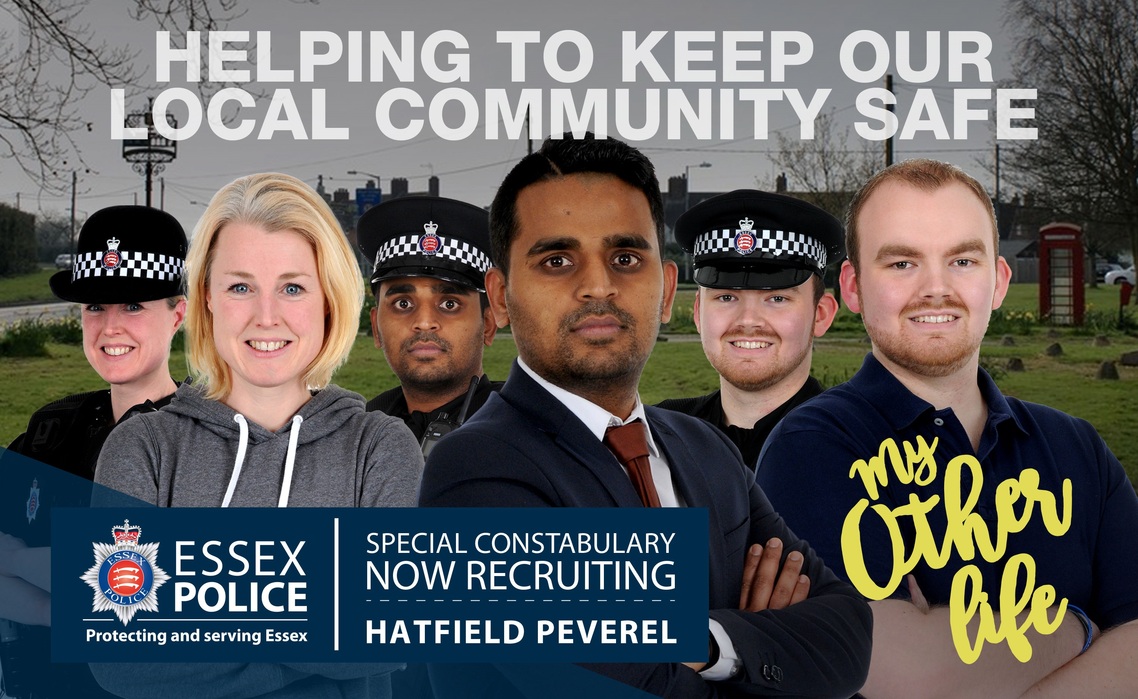 Volunteering as a Special Constable in Hatfield Peverel: A Unique Opportunity for Local Residents to Make a Positive Difference in Their Community
Are you looking for a way to give back to your local community while gaining new skills and experiences? Consider becoming a Special Constable, or Special, in Hatfield Peverel!
As a Special, you will work closely with other officers to patrol the streets, respond to crimes and emergency situations, and engage with members of the public. You will have the same powers as regular officers, under the command of regular senior officers, and with your own rank structure. But being a Special isn't just about law enforcement; it's about giving back to the community in a meaningful way.
Here are some of the benefits of becoming a Special:
A unique challenge like no other Volunteering as a Special will give you the opportunity to develop new skills in conflict and crisis management, leadership, and understanding the law. It's a chance to find out what you are capable of!
A feeling of achievement You will get a real sense of achievement by helping others, while supporting regular officers and contributing to your local community.
Gain a good understanding of real life in your area By volunteering as a Special, you will gain a better understanding of the challenges and issues faced by residents and businesses in town.
Increase your circle of friends As a Special, you will meet a wide variety of people, from other volunteers to regular officers to members of the public.
Experience much more variety in your life No day will ever be the same when you're a Special! You will have the opportunity to respond to a variety of situations, from public events to accidents and incidents.
Learn to physically defend yourself and deal with conflict As a Special, you will receive training in self-defense and conflict management, which can be useful in all areas of life.
Gain confidence By overcoming new challenges and opportunities, you will build confidence in your abilities and yourself.
Open up a world of opportunities Joining as a Special can open up a world of opportunities for personal and professional advancement. It can also bring excitement and challenge to your day-to-day life.
So, what will you do as a Special Constable? The answer is: a lot! Specials take part in frontline police work, intelligence-based patrols and taking part in crime-prevention initiatives. Here are just a few examples of what you could be doing:
Ensuring public safety As a Special, you may assist at the scene of accidents, fires, or incidents, helping to control situations and ensure people are safe.
Preventing crime One of the key roles of a Special is to carry out high-visibility foot patrols to deter and detect criminals. You may also educate businesses and the community about crime and how to avoid it, or talk to schoolchildren about crime reduction and community safety.
Tackling crime Specials confront anti-social behaviour on the streets and deal with all kinds of crime, including enforcing road safety laws.
Investigating crime Specials may conduct house-to-house enquiries to gather information and support larger enquiries. They may also take part in police operations to disrupt and arrest offenders.
Securing convictions As a Special, you may present evidence in court to support the justice system in prosecuting offenders.
Becoming a Special Constable in Hatfield Peverel is a great way to give back to your community while gaining valuable skills and experiences. If you're passionate about making a difference, want to challenge yourself, and gain insights into the law enforcement profession, then this could be the perfect opportunity for you. By joining the police force as a Special, you will be making a positive impact on the safety and well-being of your community while expanding your personal and professional horizons. So why not consider becoming a Special Constable today? Your community and your future self will thank you for it.
Find out how to apply here: https://www.essex.police.uk/communityspecials